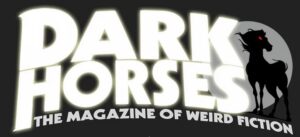 A shout out to Dark Horses magazine, who have accepted my short story, "Red Sands at Morning." A bit of a taste:
            Amid the buoys, bits of fishing nets, and jagged tree limbs sat a red sandcastle. Only, not a sandcastle, not really. It certainly had the FEEL of a castle, with walls and swooping turrets and exposed angles that looked defensive in nature. But it was rougher, wilder, and should have been pulverized in the storm had it been built before it. And it certainly wasn't new; there was no one else in sight.

            "Can we see that sand, Daddy? Please please please…" Alan set the girls on a sturdy tree trunk and made his way through the debris field to the red castle. The closer he got to it, the more sinister it became, with some of the spires topping the thing looking almost razor sharp. It also appeared to have washed in with the rest of the storm junk. As he approached it from the ocean side, there was a clear line between the off-white of the beach sand the solid red of the castle.